How We Learn
In the Bumblebee Room we encourage a love of learning by creating an environment that challenges our three year olds, but still conveys the comfortable and relaxed feeling of home.
Our language skills as well as our social skills are developing very quickly so a lot of our focus is on helping children learn to use these new abilities. We help children label and express feelings and solve problems with each other by stopping, listening and talking it through. Teachers work alongside children as the navigate the various social situations of group care, often helping giving words and explaining actions. As children gain self confidence and independence teachers sometimes are able to step back and allow children to work things out on their own.
The love of learning is encouraged as we provide an environment that three year olds can navigate to find and use materials and equipment that will help them grow in many different learning areas. Teacher directed activities are also used to stimulate interest in new concepts and build on those just beginning to blossom. Songs, stories and books are also important parts of our curriculum as children begin to gain an understanding of literacy and the worlds it can open
Finally, we encourage a love and respect for science and the world around us as we bring nature into our classroom and explore the world around us on our many field trips and outside times.
Teachers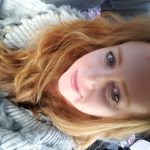 Heidi Schaaf, Lead Teacher
I have been in the field since 1999 and started at Red Caboose in 2002. In 2007, I left to spend time raising a child and worked at another center here in Madison. I returned to Red Caboose in June of this year. I continue to study Early Childhood Education (ECE) at UW Milwaukee's School of Education, where I most recently earned the Leadership Credential.
---
Alafia Coker
I am a Raleigh, NC native with a strong passion for helping others and working with my community. After 6 years of caregiving in North Carolina and Maine, I moved to the Madison area in the spring of 2020. I come from 3 generations of educators and community leaders and I am excited to continue that legacy here in Madison. I strive to create a fun environment where our Bumblebees can appreciate the true power of community and learn to support each other using self awareness, collaboration, and other skills used in our anti bias curriculum.
---
Liza Diamond
I am enrolled in the the Early Childhood Education program at Madison College.  I am thrilled to have the opportunity to be part of the Red Caboose program. I am very creative and organized, and have enjoyed working with various ages of children. My most memorable experience working with kids is when I worked three full summers at a camp program.  My long term goal is to earn a bachelor's degree in elementary education.
---