How We Learn
Our Grasshopper Room partners with MMSD to provide four year old kindergarten to our children, here in the familiar setting of Red Caboose. Learning through play still dominates our philosophy, however, as we work with the particular needs of four year old children.
Our social skills, by this time, are really becoming advanced. We are now able to sit in groups and work together on shared projects. Teachers in the Grasshopper Room use group meetings to plan, problem solve and discuss classroom issues. We also use these group times to expand our understanding of some concepts through stories, songs and play. Social problem solving becomes more sophisticated as we learn to gather information, brainstorm and implement solutions. Our growing independence is also encouraged as we begin to initiate and carry out our own activities without direct adult supervision (although we are always there to lend a hand, if needed). Children are asked to begin to accept responsibility for their own materials and belongings.
In the Grasshopper Room we have learning areas where specific, usually open-ended, projects are set out for children to explore individually or in groups, alone or with a teacher's help, various concepts in different learning areas. Along with those activities are other materials and equipment that can be used in various ways to explore those same concepts as children take part in driving their own learning. Teachers also provide daily projects designed to stimulate interest in new concepts or to build on concepts already introduced. Finally, we learn about nature, weather, geography, people and our neighborhood in general as we spend time outside and our many field trips.
Teachers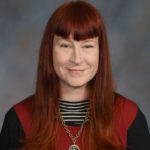 Leigh Szuch
I have been an early childhood educator for over twenty-eight years! For seventeen of those years I was a Teacher in the Grasshopper Room here at Red Caboose and am very excited to return. Every day there are new things to discover about this world, inside the classroom and outside. I get to really know each child in my care, mostly by using my sense of humor, knowledge of art, and by really listening to the kids. There's no other job like it, and nowhere I'd rather be!
---
New 4K Teacher Announcement Coming Soon!