This is the most supportive, and loving work environment I've worked in. I feel like I have a family here and the endless support from my wonderful colleagues has truly changed my life in terms of growth. I enjoy coming to work every day. The children, the parents, and the staff are kind and full of love. I value and appreciate that. Thank you for this opportunity. – Red Caboose Staff Member
Current Open Positions
After School Program
After School Teacher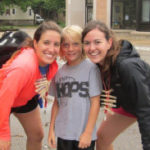 We are looking for adults with professional experience who are energetic, creative, and dedicated to work with children in grades K-5 from a highly diverse group of socio-economic backgrounds.
Full Job Description: After School Teacher
Submit application to School Age Program Director
Child Care Center
4K Lead Teacher
About Red Caboose: Our Grasshopper Room partners with MMSD to provide four year old kindergarten to our children, here in the familiar setting of Red Caboose. Learning through play still dominates our philosophy, however, as we work with the particular needs of four year old children. Located in the heart of downtown, the Red Caboose Child Care Center has supported the Madison community for more than 45 years by providing high-quality affordable early childhood education and care for our city's most valuable resource – our children. Established in 1972, Red Caboose is one of the oldest independent centers in Madison, and the first center to meet the city's rigorous child care accreditation standards. Red Caboose believes that every child in our community deserves exceptional care, regardless of their socioeconomic background.
The 4K Lead Teacher will administer and supervise programs, staff, staff evaluation, and parent communication. This position must be able to treat each child and their families with respect, dignity, and caring; and be supportive of cultural differences, special needs, and different family structures. This position is represented by the Wisconsin Child Care Union.
I) Qualifications
A) Education – Must hold DPI (Department of Public Instruction) certification. Must meet state licensing requirements for a teacher, Child Development Associate (CDA) Credential or AA/BS in Child Development, preschool education or related field, or have equivalent experience.
B) Experience – Must have at least two years experience, prefer experience with 4-year-old children; experience and/or training in staff supervision preferred.
C) Physical – Must be able, within reason, to lift classroom equipment; must be able to participate in physical activities with the children (such as games and walking field trips); must be able to keep children safe in an emergency (such as moving, holding or guiding children to safety).
D) Skills – Must demonstrate problem solving, organizational, interpersonal, and communication skills.
II) Specific Duties
A) Child Interaction
i) Interact appropriately with children during all phases of the day (including planned and unplanned activities, meal and nap times, field trips, and transitions) in a warm, accepting and nurturing way. Be aware of each child's needs and developmental level.
ii) Guide children's growth in the areas of social-emotional development, problem solving, self-help, language, communication, intellectual development, large and small motor skills, creativity, and imagination.
iii) Provide consistent, positive limits and expectations, and use positive child guidance techniques.
iv) Oversee the entire classroom or group situation. Follow the Red Caboose tracking procedures.
v) Ensure the health and safety of the children: maintain knowledge of and administer first aid; respond to emergencies; know and execute fire drill and tornado drill procedures; dispense and record medication; and report accidents according to Red Caboose procedures.
B) Program
i) Ensure short and long range curriculum planning is carried out in accordance with Madison Metropolitan School District and Red Caboose expectations.
ii) Ensure Red Caboose and applicable Madison Metropolitan School District policies are implemented.
iii) Ensure maintenance of the classroom; provide age appropriate materials and activities, rotate accessible materials and activities, and organize room arrangement. Ensure maintenance is shared among teachers.
iv) Ensure child progress reports are written and conferences offered in accordance with Red Caboose and Madison Metropolitan School District policy.
v) Ensure that all tasks for smooth running of the program are shared by all staff (i.e., selection of library books, rearranging room, making projects, preparing activities, changing accessible materials).
vi) Act as a resource for children and parents to available community resources, including paperwork and parental permissions.
vii) Lead room meetings; communicate information and ideas from Lead Teacher meetings to room staff.
viii) Respond to emergencies.
ix) Ensure City Accreditation standards are upheld. Facilitate City Accreditation process.
x) Ensure that developmentally appropriate programming is implemented.
xi) Ensure all teachers are aware of child and family information (i.e., special needs, custody issues, pick up authorization, medical and dietary needs, etc.).
C) Administrative
i) Enrollment:
(a) Post list of enrolled children with schedules and number of children;
(b) Take attendance every day; arrange for drop-ins; and,
(c) Keep roll book updated with schedule changes, withdrawals, and ages of kids.
ii) Ensure requirements for State Licensing regulations are followed through on an ongoing basis.
iii) Ensure appropriate child/staff ratios are upheld according to law and Red Caboose policies.
iv) Ensure that all forms (including Child and Adult Care Food Program (CACFP), late pickup, and Breaks Not Taken) are completed and returned to the Billing Coordinator and Financial Manager in a timely manner. Make sure children's forms (including medicine permission, change of schedule, and take home permission) are on file.
v) Coordinate staff scheduling so that adequate staffing is assured.
vi) Work with teachers to ensure adequate and appropriate educational supplies are ordered, stocked and maintained to meet the needs of the children.
D) Staff Supervision and Evaluation
i) Supervise and evaluate staff performance, including goal setting and training needs.
ii) Sign timesheets of room staff, ensuring they are correct.
iii) Take appropriate disciplinary action, including: verbal warnings, written warnings and/or written reprimands. Fully involved the Executive Director in decisions to suspend or discharge an employee.
iv) Coordinate scheduling and supervision of volunteers and student teachers.
v) Orient new staff, substitutes, and volunteers to the room.
vi) Be on hiring committees for vacancies in the room.
vii) Act as the main staff liaison within the classroom; ensure communication among staff; act as a resource person for resolution of problems within staff.
E) Parent Communication
i) Orient each parent new to the room.
ii) Make sure staff and volunteer schedules are posted.
iii) Post daily and weekly activities and schedules.
iv) Act as the main parent liaison. Ensure parent-staff communication through logs, newsletters, daily charts, conferences etc. Act as a resource person for resolution of parent, staff and child problems.
v) Post sign-up sheets for parents as needed.
vi) Coordinate room potlucks and other activities.
vii) Inform staff and families of all enrollment changes, new staff, volunteers, and/or substitutes.
F) Other duties that fall within the scope of the job description as directed by your supervisor.
Benefits:
Health & Dental Insurance (single, plus one, family)
Retirement Plans
Paid Sick and vacation time
Paid Holidays
Paid Staff Development
Union Representation
Flex Spending Account
Discount on Child Care
Long Term Disability
AFFIRMATIVE ACTION – EQUAL OPPORTUNITY EMPLOYER MINORITIES ENCOURAGED
Job Type: Full-time
Salary: $35,880.00 – $37,128.00 per year
Submit resume to Preschool Program Director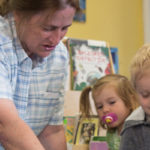 Substitute Teacher
Our Substitute Teachers will work on an on-call basis in different classrooms with children who vary in age from 9 months to 6+ years. We accept candidates for this position who fulfill at least the minimum licensing requirements for a Preschool Teacher in Wisconsin (preferred), although candidates with degrees in related fields are also welcome to apply.
Employment Application and Job Description: Substitute Teacher
Submit application to Preschool Program Director
Camp Caboose
Summer Day Camp Positions
We are fully staffed for Summer 2022.  If you are interested in working with campers next summer please email our School Age Program Director,  Laura.