Providing Madison Families With Loving Child Care Since 1972
Generations of families in Madison have trusted us to care for and love their children — and we take that mission seriously.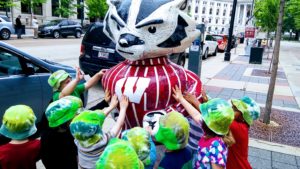 What's special about Red Caboose?
We're the only child care center in Madison that factors family income into tuition costs — cost is calculated on a sliding scale.
Nutritious meals and snacks are included, and we make it all in-house.
We buck industry trends with low staff turnover. Our experienced teachers and staff dedicate themselves to Red Caboose children, some for as long as 40 years!
Come see for yourself. Schedule a tour, meet the teachers and families that make Red Caboose a special place for pre-school and school-aged children to learn, grow, and be loved.
Red Caboose's Child Care Center
For a tour and to learn more about us, contact Crystal, our Preschool Program Director, at ppd@redcaboosedaycare.org.  Enrollment information is available upon request.
Current Enrollment Openings
Turtle Room, ages 11-24 months: 1 part-time opening
Elephant Room, ages 2-3 yrs: full & part-time openings
Bumblebee Room, ages 3-4 yrs: full & part-time openings
Grasshopper Room, ages 4-5 yrs: no openings at this time
Red Caboose's School Age Programs
---
Special Fall 2020 School Day Programs at Lapham Elementary – Information & Enrollment Forms
In order to provide peace of mind for parents and to support students with virtual learning, Red Caboose is partnering with the Madison Metropolitan School District to provide full-day care and support for students at Lapham Elementary School beginning September 8, 2020.
To enroll, please contact Savannah, our Enrollment Coordinator, at sapenroll@redcaboosedaycare.org
---
After School at Lapham & Marquette (during the school year when in-person instruction resumes)
Camp Caboose (during the summer)
School Age Program Rates 2020 (during the school year when in-person instruction resumes)
After-School Program enrollment packets for the 2020-2021 school year:
Days of Play enrollment for the 2020-2021 school year:
We offer care on days that public school has Early Release days or No Public School days (aka Days of Play) – sign up separately in advance to ensure your spot(s) for this school year!
All enrollment paperwork and payments should be delivered to:
654 Williamson Street
Madison, WI 53703
Additional School Age Program Information:
RC School Age Program Parent Handbook
WI Child Care Licensing Summary