This is the most supportive, and loving work environment I've worked in. I feel like I have a family here and the endless support from my wonderful colleagues has truly changed my life in terms of growth. I enjoy coming to work every day. The children, the parents, and the staff are kind and full of love. I value and appreciate that. Thank you for this opportunity. – Red Caboose Staff Member
Current Open Positions
NOW HIRING EXECUTIVE DIRECTOR
After School Program
After School Teacher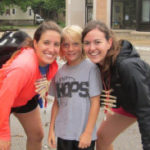 We are looking for caring adults who are energetic, creative, and dedicated to work with children in grades K-5 from a highly diverse group of socio-economic backgrounds.
Full Job Description: After School Teacher
Send resume and/or questions to School Age Program Director
Child Care Center
Substitute Teacher
Our Substitute Teachers will work on an on-call basis in different classrooms with children who vary in age from 9 months to 6+ years. We accept candidates for this position who fulfill at least the minimum licensing requirements for a Preschool Teacher in Wisconsin (preferred), although candidates with degrees in related fields are also welcome to apply.
Employment Application and Job Description: Substitute Teacher
Submit application to Preschool Program Director
Camp Caboose
Summer Day Camp Positions
Now hiring for Summer 2023!  Full and part-time positions available.  If you are interested in working with campers this summer please email our School Age Program Director,  Laura.