GRAND OPENING! New Home Marks New Era for Red Caboose Child Care Center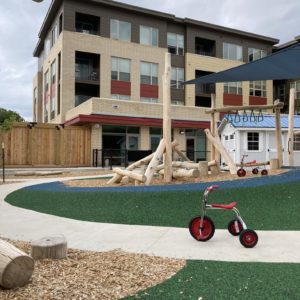 Child Care Leader, Red Caboose, Moves into New Home, Prepares to Serve More Families
MADISON, Wis. (Sept. 30, 2023) – Red Caboose Child Care Center doubled down on its values to offer high-quality, affordable child care to all when moved out of its outgrown facility on Williamson Street and into its new state-of-the-art building on Winnebago Street. Now the transition is complete, and Red Caboose is ready to begin its next chapter with a grand opening celebration.
Just down the railroad tracks from its old stomping grounds, Red Caboose will hold a grand opening ceremony on Saturday, September 30 at 10 a.m. at 2346 Winnebago St. The public, including alumni, are invited to attend.
Tours of the new home for local children to learn and grow will begin at 10 a.m., with a program beginning at 11 a.m. Alder Marsha Rummel, Madison Mayor Satya Rhodes-Conway, District 16 State Senator and Red Caboose Alumnus Melissa Agard, and Greater Madison Chamber of Commerce President Zach Brandon will speak. Afterward, there will be a ribbon cutting, snacks, and additional tours of the new building.
"Our new child care center is an exciting benefit to our community. We now have a larger, more welcoming home that enables us to serve three times as many kids, including infants and toddlers. This is such a specific need in child care, promising an even more significant positive impact on the Madison community's children," Pam Skeel, Red Caboose Executive Director, said.
The much-anticipated four-story, 92,000-square-foot building comes in partnership with Movin' Out, Inc. and will accommodate the growing number of children on Red Caboose's waitlist and address the alarming affordable housing and childcare gap under one roof.
Movin' Out specializes in developing affordable housing, especially for people with disabilities, their families, and their allies, to create and sustain community-integrated, safe homes. Movin' Out owns floors 2-4, which includes 38 apartment units.
Red Caboose is located on the ground floor and has carefully crafted its new 21,000-square-foot space to meet the needs of teachers, children, and parents. It meets sustainability and energy standards, features an accessible nature-based playground and much-needed infant and toddler classrooms, and enables staff to serve three times more families.
Madison's first accredited child care center also offers tuition on a sliding scale. More than 38% of Red Caboose students are children of color, and 25% come from low-income families. Eighty percent of families qualify and receive tuition support. 
"We have a long tradition of serving diverse communities in Madison, and we want that legacy to continue in our new location," Red Caboose Board President Aaron Stephenson said.
Serving the Madison community for more than 50 years as an innovative nonprofit childcare center, Red Caboose was formed in 1972 by a group of parents. The memories and traditions created at the Williamson Street location will be honored and carried on in its new home on Winnebago Street. Today, $1.5 million is needed to reach the $7 million Capital Campaign goal, and donations are still being accepted.
Red Caboose alumni, staff, children, and families will come together to celebrate the completion of the 7-year project and welcome the next generation into a place where they can flourish no matter their socioeconomic background.
About Red Caboose: Established in 1972, Red Caboose is one of Madison's oldest independent child care centers and the first center to meet the city's rigorous child care accreditation standards. Red Caboose prioritizes paying its childcare specialists a living wage as a nonprofit. A supportive environment for staff and children leads to low turnover and positive experiential learning.
About Movin' Out, Inc.: Movin' Out, Inc. is a 26-year-old statewide nonprofit housing organization that partners with people with disabilities, their families, and advocates to secure safe, affordable, accessible, and community-integrated housing. They have helped to develop and operate over 1,100 units of affordable rental housing, with approximately 500 new units currently under development across Wisconsin. In addition to multi-family rental housing development, their services include information and referrals, housing counseling, homebuyer education, down payment assistance, financial assistance for repairs and modifications for safety and accessibility, and various support programs to help ensure long-term housing stability. Movin' Out serves low- to moderate-income households, including a person with a permanent disability.
About The Creative Company, Inc. The Creative Company is a leading PR and Digital Agency that represents top nonprofits, businesses, and cooperatives, helping them evolve, promote and protect their brands and reputations. The Creative Company is certified as a Woman-Owned Business Enterprise by the State of Wisconsin and the 2022 Dane County Small Business of the Year Winner. Visit thecreativecompany.com for more information.
Resource Links
Red Caboose
Movin' Out, Inc.
FMI:
Lisa Fiala
Project Administrator
608.256.1566
admin@redcaboosedaycare.org
Red Caboose Staff September 29th, 2023
Posted In: Child Care Center, New Facility, News
Tags: Accessibility, Child Care, Madison, Red Caboose Child Care Center, WI