A Day Without Child Care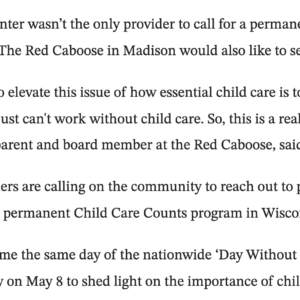 Red Caboose Child Care Center stood in solidarity and remained open to serve Madison families on May 8: "Day Without Child Care" and recognized the concerning, growing need for affordable, accessible, and quality early childhood education and development.
Red Caboose Child Care Center was covered by Madison's WKOW on the impact affordable, and inclusive childcare makes in the lives of working parents and the local economy. Doing this also brought awareness around the national "Day Without Child Care."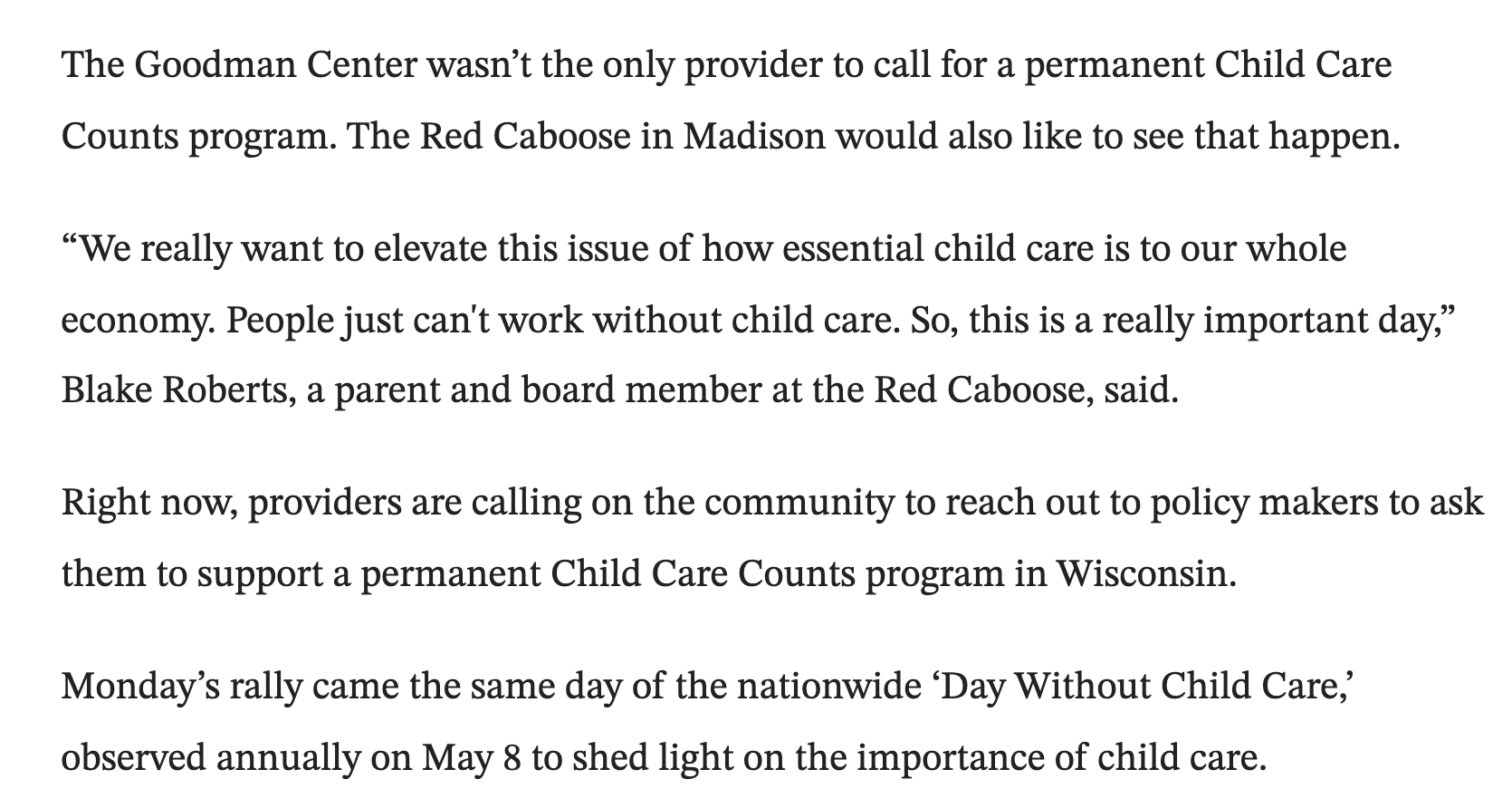 By staying at the forefront of educational trends and actively contributing to the broader conversation with educators, parents, and policymakers, Red Caboose has an influential voice in the early childhood education industry, shaping a better future for our community.
According to the Economic Policy Institute, the average cost for a year of infant care in Wisconsin is more than $12,000, which, in some cases, is more than college tuition. Red Caboose feels the socioeconomic pinch families face every day, answering desperate phone calls from expected parents hoping to get on the already long waitlist.
On May 8, childcare providers and families nationwide demanded an equitable childcare system built on racial and gender justice, thriving wages for providers, and affordable child care for all. We are doing this by sharing with legislators, policymakers, and the world what our communities would look like without it.
Without affordable child care, parents would miss work and professional development opportunities, struggle in debt, the economy would suffer, and our children wouldn't get the same opportunities to learn, grow, and be loved.
"Child care is the backbone of our economy," Blake Roberts Crall, Red Caboose Parent, and Board Member, said. "On this important day, we want to honor and stand in solidarity with our teachers, staff, and childcare professionals everywhere who make it possible for parents to get to work. These amazing professionals provide high-quality care and education to our children, but the childcare system is underfunded and broken. We need to invest in an equitable child care system that ensures providers and staff can thrive, and all families get the care they need so we can fully participate in the economy."
Red Caboose has served the childcare needs of 5,000 Madison families for more than 50 years and has learned how to break down the financial and inclusion barriers, like factoring family income into tuition costs. Red Caboose is the only childcare center in Madison to offer tuition on a sliding scale.
The thought leader and expert in child care recognizes that it can't achieve excellent education, nutrition, and play-based learning alone.
The Red Caboose Organization has been a big part of the impact of quality, affordable child care, regardless of race and family income, for more than 50 years. We do not want to see what our community would look like without that kind of care for Madison's children.
In the fall, Red Caboose will serve additional community members in its new state-of-the-art home off of East Washington Avenue, offering children and families the care they need and deserve.
Red Caboose Staff May 18th, 2023
Posted In: News